MAS
160
2-Wege 165 mm (6.5") Komponentensystem
Präzise und räumlich klingendes 2-Wege High-End System mit speziell entwickelter Hexacone Membrane, neuen Terminals, einem kräftigen Antrieb mit optimierter Belüftung. Keronite beschichtete Magnesium Hochtonkalotten in Kombination mit der patentierten Reflexions-Kompensation Technik für klarste Reproduktion hoher Frequenzen. Inklusive Ein- und Aufbau Gehäuse für Hochtöner mit Schwenk- und Drehfunktion, separate Frequenzweichen mit 6 dB / 12dB Lowpass für den Tieftöner, Gain Adjustment für den Hochtöner. Entwicklung und Herstellung Made in Germany.
Zur Erweiterung des MAS 160 zum 3-Wege System wird der MAS 80 Mitteltöner benötigt, im passiven Betrieb das MRX-3W Frequenzweichenset.
//php if ($renderLabel) :?> //php endif; ?>
ET-MAS160
Product features
165 mm (6.5 inch) 2-Wege Top-Class System mit Hexacone-Membrane & 25 mm feinzeichnender Magnesium-Keronit Hochtöner, starkem Ferrit-Magneten mit glanzgedrehter Bodenplatte und großem, strömungsoptimierter Kernbohrung, flach dimensionierter, Aluminium-Druckgusskorb und belastbarer Schwingspule, 4 Ohm Impedanz, 80 W RMS, 140 W Musikbelastbarkeit, 89 dB Kennschalldruck inkl. Gehäuse-Frequenzweichen, Made in Germany.

Bass / midrange
165 mm (6.5")
Sound pressure level
89 dB
Installation depth
52,4 mm
Technology
Aluminum die casting basket
ALUMINIUM DIE-CAST BASKET - Increased stability with a minimum of weight, powder-coated, corrosion-resistant basket with optimized heat dissipation and flow-optimised. Reduced resonance of the material for a maximum of precision.
165 mm low-midrange driver
LOW/MID-RANGE DRIVER - 165 mm outer diameter, 8 screw points, arranged in a circle. Recommended frequency range: 50 Hz - 3000 Hz.
Heavy duty voice coil
HIGH-STRENGTH-VOICE-COIL - strong power surges and high temperatures andtemperature fluctuations in the vehicle must be withstood by a voice coil, the current flows through it. It guarantees impulse fidelity, centring and much more.Particularly light construction and at the same time extremely stable with optimal heat dissipation and high symmetry for an optimal working range.
Optimized heat dissipation
OPTIMISED-HEAT-DISSIPATION - The T-joke design has been specially designed to absorb and effectively dissipate heat generated by the magnet system, through the large core bore and specially designed ventilation ducts. without creating any flow noise.
Optimized ventilation
OPTIMISED-VENTILATION - The basket design has been specially developed to ensure better heat dissipation to the environment, in addition the basket design minimises / prevents the generation of noise.
89 db sound pressure
89-DB-SOUND-PRESSURE-LEVEL - measured at 2.83 V / 1 m. According to this industry standard all loudspeakers are measured and their sound pressures determined.
optimized magnetic field symmetry
OPTIMISED-MAGNETIC-FIELD-SYMMETRY - Many factors during the production of a speaker chassis subsequently result in the symmetry of the magnetic field. It is a combination of the pole plate, the actual magnet and the T-joke as well as their properties in size, magnetic strength and the precision – how they are put together. We have optimised this process and with the highest precision to achieve the best performance.
Made in Germany
MADE IN GERMANY - We have been developing and testing loudspeakers for over 35 years. Our entire manufacturing and development know-how plays a central role in this. This loudspeaker was developed and manufactured in Germany and has been subjected to our strict quality control. A promise of quality in terms of performance and workmanship.
Technical data
Total moving mass (incl. air mass)
Equivalent air vol. of suspension
Characteristic SPL 1W / 1 m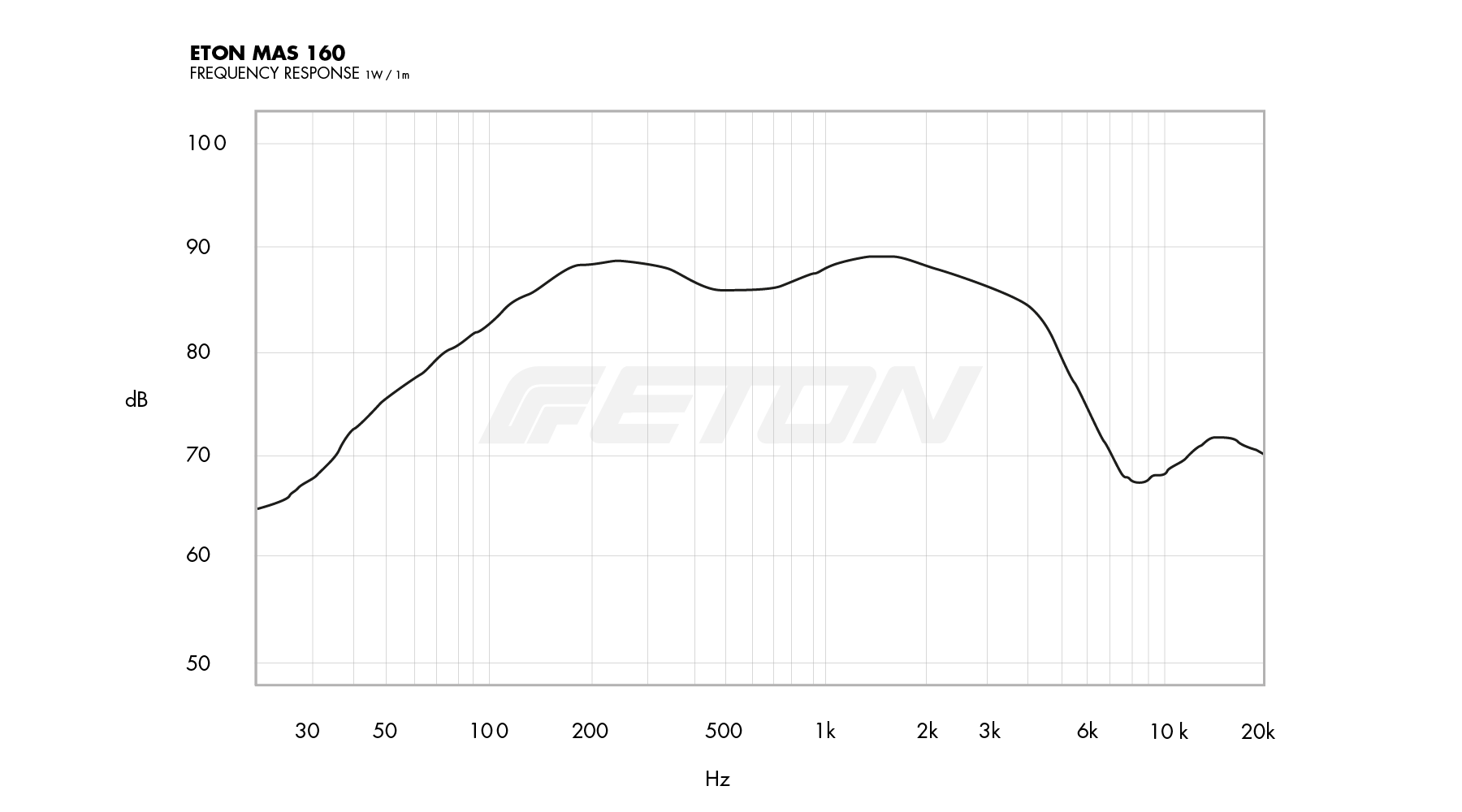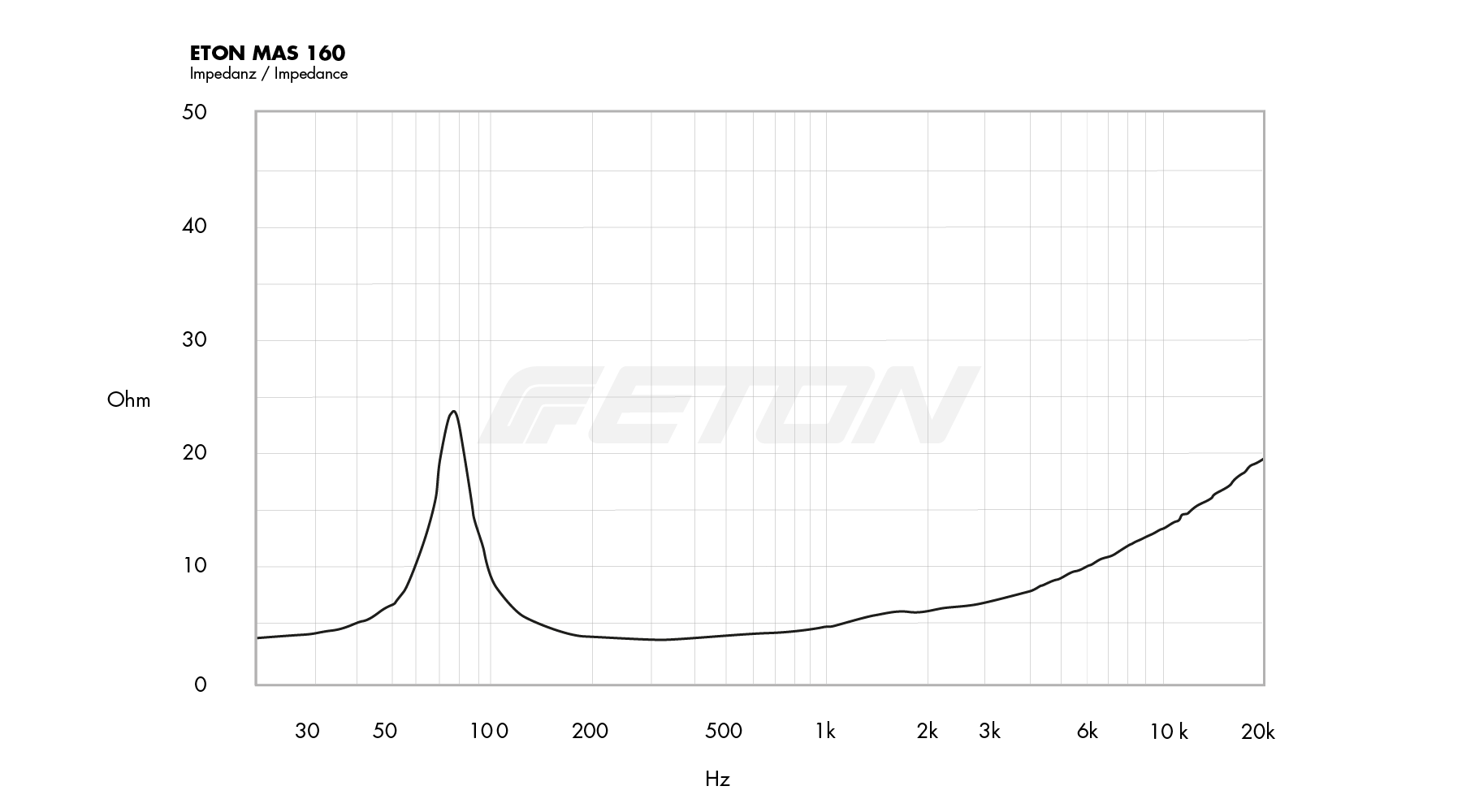 Thiele-Small parameters
Mechanical Data
Frequency response
Impedance curve