GRAPHIT
28
High End 28 mm (1 1/8") Hochtöner
High-End Hochtöner mit großer 28 mm Schwingspule im smarten Einbaumaß eines 25 mm Tweeters: Die 2-fach handbeschichteten Gewebehochtöner mit verbesserter Domgeometrie überzeugen mit optimierten Rundstrahleigenschaften, seidigem, präzisen Hochton und einer füllig warmen Stimmwiedergabe – Details die begeistern, Details für die perfekte Bühne im Fahrzeug. Das neu entwickelte ETON Pattern-Abdeckgitter aus hochwertigem Kunststoff wurde resonanzoptimiert und ermöglicht daher maximalen Durchlass. Die Tweeter wurden mit einem kompakten Koppelvolumen und Reflektionskompensations-Technik im Neodym-Antrieb ausgestattet. GRAPHIT 28 – das sind Hochtöner der Extraklasse, made in Germany; Ein- und Aufbaugehäuse mit Dreh- und Schwenkfunktion sind im Lieferumfang enthalten.
//php if ($renderLabel) :?> //php endif; ?>
ET-GRAPHIT28
Product features
Mehrperformance im kleinen, smarten Einbaumaß – die neu entwickelten Graphit 28 machen es möglich! Eine große 28 mm, höher belastbarere Schwingspule in Kombination mit dem neu entwickelten und speziell beschichteten Gewebedom ergeben Hochtonperformance satt! Der äußerst starke Neodym-Magneten bringt feinste Hochtondetails zur Geltung. Stimmen werden sanft und voll wiedergegeben, feinste Dynamik mit erhöhtem Wirkungsgrad. Optimierte Rundstrahleigenschaften dank der neu entwickelten Dom-Geometrie und kleinem Koppelvolumen mit Dämpfungspad. Impedanz: 4 Ohm, Empfohlener Übertragungsbereich: 2.4 – 22 kHz, Mittlerer Kennschalldruck 1W/1m: 89 dB, inkl. Ein- & Aufbaugehäuse mit Dreh- & Schwenkfunktion. Herstellung und Entwicklung Made in Germany.

Nominal power (RMS
120 W über Frequenzweiche
Sound pressure level
89 dB
Outer diameter
44 mm mit Einbaugehäuse
Installation depth
15.5 mm mit Einbaugehäuse
Technology
Neodym Magnet
NEODYM-MAGNET - a powerful magnet, full control and compact in size. Neodymium magnets are characterised by their high pulse fidelity and the optimal magnetic field symmetry.
Technical data
Total moving mass (incl. air mass)
Equivalent air vol. of suspension
Characteristic SPL 1W / 1 m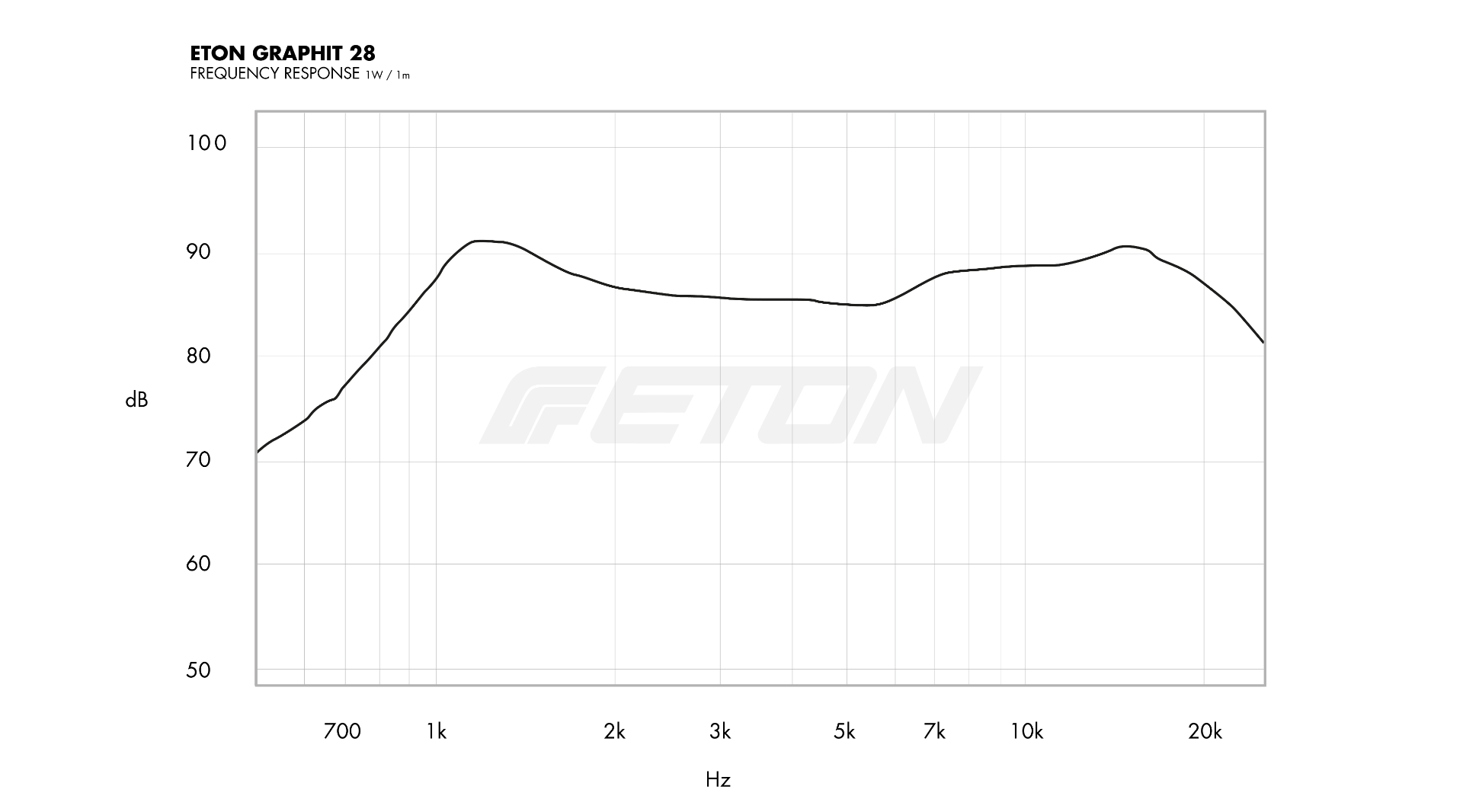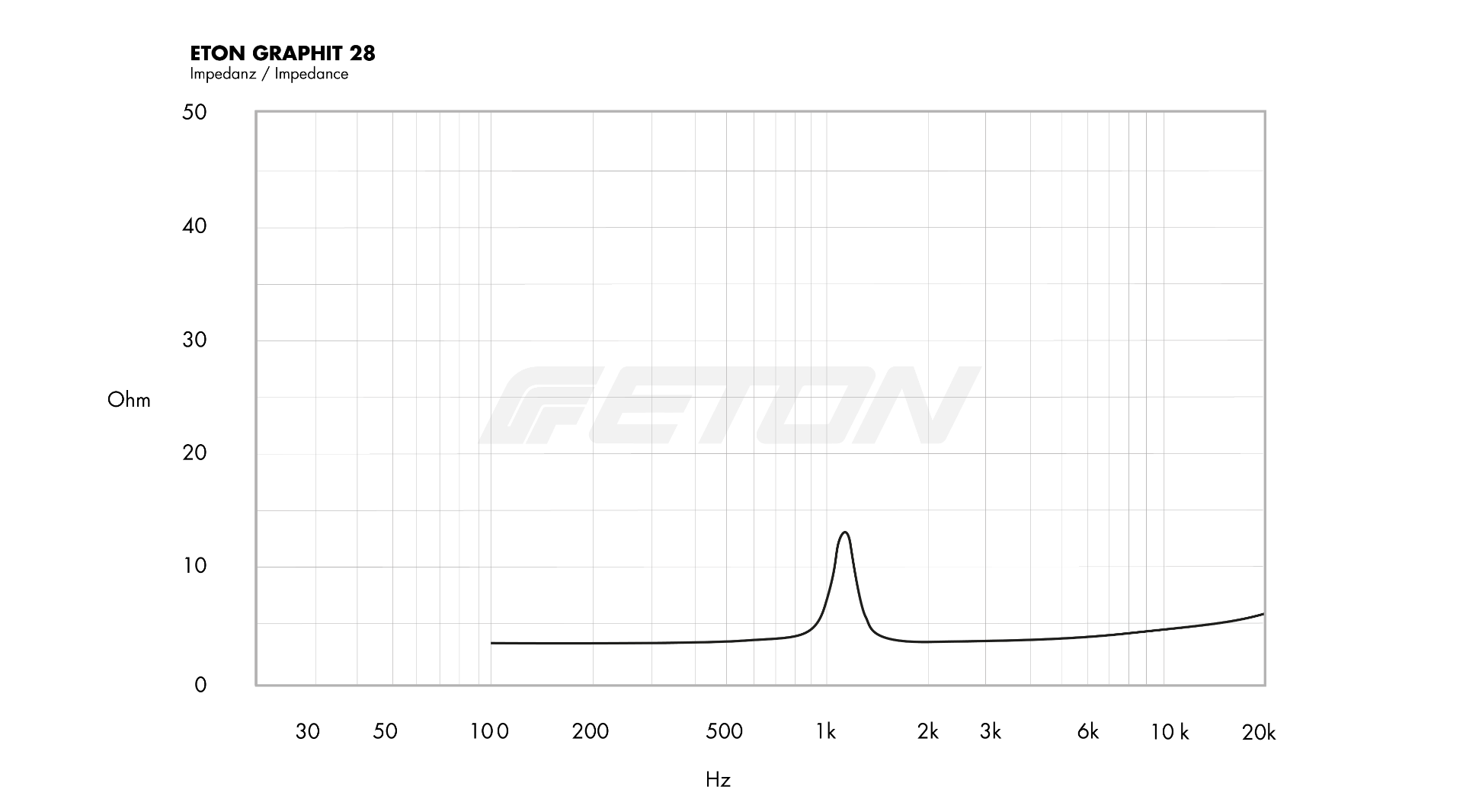 Thiele-Small parameters
Mechanical Data
Frequency response
Impedance curve